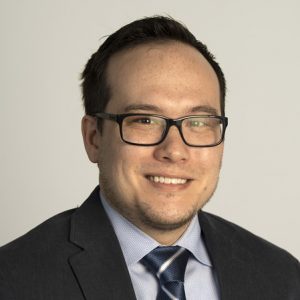 Dr. Joshua E. Meyers is clinical assistant professor of neurosurgery at the State University of New York at Buffalo who joined UBNS in April of 2019. His clinical focus centers around minimally invasive spine including newer technologies such as the exoscope and robotics. His clinical areas of interest include lumbar, thoracic, and craniocervical pathology. His research interests include robotic spine surgery and its application to minimally invasive and open deformity surgery. In addition, Dr. Meyers practices general cranial surgery.
Dr. Meyers is a native of St. Louis, MO and completed his neurosurgery residency training in Buffalo in 2019. He completed an en-folded spine fellowship at the University of Buffalo in 2017 concentrating in both open and minimally invasive spine. His undergraduate studies were completed at Washington University in St. Louis in economics. This was followed by completion of his medical degree in 2012 from New York Medical College in Valhalla, New York. He has authored several peer-reviewed publications and has presented at national neurosurgical meetings and is an active member of American Association of Neurologic Surgeons (AANS) and the Congress of Neurological Surgeons (CNS).
Dr. Meyers sees patients at our Park Club Lane office and Erie County Medical Center (ECMC). He performs surgeries at Buffalo General Medical Center/Gates Vascular Institute, Millard Fillmore Suburban Hospital, and ECMC.